Description
The American in Canada – 2nd Edition
JUST RELEASED
Real-Life Tax and Financial Insights into Moving to and Living in Canada — Updated and Revised Second Edition
Brian Wruk
Revised and updated with 2013 tax law
HUNDREDS OF THOUSANDS of Americans are living in Canada today — and the tax issues for everyone from green card holders living in Canada to Canadians returning home from years in the U.S. are astounding and complex. In easy-to-understand language, The American in Canada focuses on the eight key areas of transition planning: immigration, customs, cash management, income tax, retirement, estate planning, risk management, and investments.
• Do you have to file tax returns with the IRS?
• What income do you have to declare, and in which country? Should you leave your IRAs and 401(k)s in the U.S.?
• What immigration avenues are available to help you move into Canada?
• Do you qualify for Canada's socialized healthcare programs?
• What should you do with your home or rental property in the U.S.?
These questions, and many more, are answered in this essential guide for the American living in Canada
BRIAN D. WRUK, MBA, CFP(US), CFP(Canada), TEP, CIM, was born and raised in Edmonton, Alberta, but moved between Canada and the U.S. on several occasions. Now a dual Canada-U.S. citizen residing in Arizona, Brian and his firm specialize in helping American citizens or green card holders living in or making the transition to Canada.
The IRS has now enacted, and is aggressively enforcing, the Foreign Account Tax Compliance Act (FATCA) and Passive Foreign Investment Company (PFIC) rules. The implications for opening Canadian bank accounts and owning Canadian mutual funds under these laws are explained.
"This book will appeal to people born in the United States and living in Canada, worrying about their tax status as the U.S. government takes global actions to find its citizens abroad. Author Brian Wruk provides a clear understanding of issues from renouncing citizenship to catching up on tax filings to doing an estate plan. There are few guides to cross-border financial issues for U.S. citizens. This one fills the gap."
– Ellen Roseman, personal finance columnist, The Toronto Star
"This book is a fantastic reference tool for all Americans living in Canada.  It really highlights the complexities of cross-border issues for taxes, estate planning, medical coverage, immigration and investments.  Advance planning is required on all these fronts.  Reading this book will help you get educated before seeing a professional – lowering your stress and fees!"
– Mo Ahmad, Partner, Trowbridge Professional Corporation
"The American in Canada is the perfect resource and should be the starting point for any American wanting to move to Canada. The American in Canada makes clear the need for good transition planning and highlights the key areas to be considered in the process."
– Joshua Sohn, Canadian Immigration Lawyer
ORDER MORE AND SAVE MORE!
Discounts are applied to your cart automatically.
| | |
| --- | --- |
| Quantity | Book Price |
| 1-3 | $24.95 |
| 4-9 | $20.00 |
| 10-19 | $17.50 |
| 20-29 | $16.25 |
| 30+ | $15.00 |
BUY BOTH BOOKS AND SAVE EVEN MORE!
Buy 1 of both books for just $40.00
Buy 2 of both books for just $75.00
Buy 3 of both books for just $105.00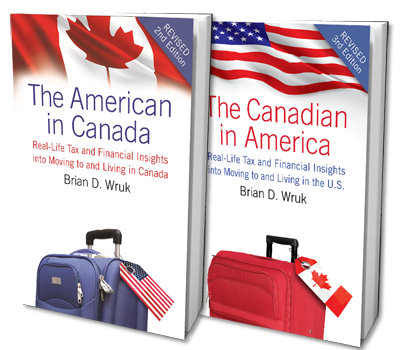 Please contact us for bulk order discounts