TRANSITION FINANCIAL ADVISORS GROUP, INC.
Welcome and thank you for your interest in Transition Financial Advisors Group, Inc.! Established in 2001, we are the worlds first boutique Canada/US financial advisory firm. We are dedicated to providing customized US & Canada tax, financial planning and wealth management solutions in a seamless way. You have found the place where you can have all of your financial needs met under one roof.
We can:
Plan for and prepare your Canadian and US tax returns, ensuring they are coordinated to optimize your overall tax situation and minimize your overall tax burden
Manage a coordinated portfolio of investments with accounts located in Canada and/or the US and in either currency, all presented on one statement in the currency of your choice to allow you to track the progress you have made towards your retirement goals
Help you design an estate plan for heirs living in either country, while giving you maximum control and mitigating your estate tax liabilities in both countries
Coordinate your entire financial situation to help you achieve the cross-border lifestyle you desire
Provide expertise from renowned authors and speakers, who have credentials in both Canada and the US
Serve you through technology no matter where you live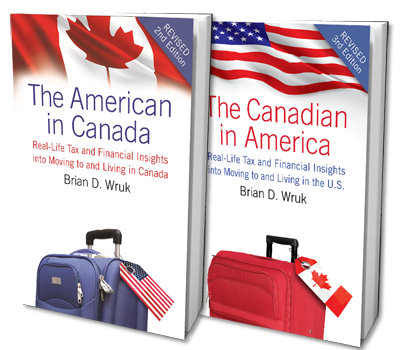 Real-Life Tax and Financial Insights into Moving to and Living in Canada and the US
We are financial planners first, although we prepare tax returns, do tax planning, help with estate planning, etc. in your Canada/ US situation.
We have a firm-wide belief that understanding your overall personal and financial situation leads to better recommendations for you
We have developed a large network of trusted professionals to service a broad range of clients who are living in or moving to Canada or the US
Canada/US Investment Solutions
Transition Financial Advisors Group, Inc. is the first boutique wealth management firm that can provide a comprehensive solution for those with investments located in both Canada and the US, all under one roof. This gives you the utmost in convenience when dealing with the complexities of investments located in both countries, in different currencies, by coordinating and presenting it to you on one statement in the currency of your choice. Our approach to investing is grounded in the research that comes out of the institutional world where trillions of dollars are managed. Through our institutional partners, TD Ameritrade in the US and NBIN in Canada, we deliver an institutional investment solution to the retail investor. Our expert, unbiased advice is coordinated with your tax, financial and estate plans to further optimize the use of your foreign tax credits and meet your financial and lifestyle goals while giving you peace of mind in turbulent times. In addition, our institutional relationships allow us to provide the highest level of asset protection for you, while assisting you with the complexities of assets stranded on either side of the border.
Sign up for our FREE NEWSLETTER – covering hot topics in the economy and financial planning!