Description
The Canadian in America – 3rd Edition
JUST RELEASED
Real-Life Tax and Financial Insights into Moving to and Living in the United States — Updated and Revised 3rd Edition
Brian Wruk
6 x 9, paper, 328 pp
Hundreds of thousands of ex-Canadians live south of the border. The similarity in culture can lead Canadians to mistakenly think that the U.S.'s taxes, laws, and customs are also the same. The Canadian in America is an invaluable resource for anyone either contemplating a move or already living in the U.S.
Revised and updated, this edition of The Canadian in America focuses on the areas of taxation, investments, health care, wills, and estates. It covers the eight areas of financial planning in any Canada/U.S. situation: immigration planning, customs planning, cash/debt management, income tax planning, retirement, estate planning, risk management, and investments. In clear and simple language, Canada/U.S. financial expert Brian D. Wruk explains ways in which one can avoid cross-border complications, like double taxation.
Perfect for Canadians who have married U.S. citizens; moved for their employment; are professional athletes or entertainers; are seeking a warmer climate for their retirement; or are U.S. citizens moving back home from Canada.
The Canadian in America has been updated with this 3rd Edition takes our own personal experiences making the transition from Canada to the US, coupled with our years of experience helping others. The Canadian in America puts these complexities in an easy to read, invaluable resource to help you face the unique and challenging financial planning matters before, during and after your move to the US. This book addresses a broad range of issues including immigration, customs, currency exchange, income tax, retirement, estate planning, insurance and investments. For example The Canadian in America provides insight into:
• What immigration avenues are available to move to the US?
• How do you prepare your personal goods for your move and is there duty to pay?
• What tax return(s) have to be filed? What income has to be declared? On which return(s)?
• What is Canada's "Departure Tax" and how is it calculated? Are there things you can do to reduce it?
• What are the consequences of leaving your investments and retirement plans in Canada?
• What should you do with your RRSPs and RRIFs when you move to the US? Are they taxable by the IRS? Can you move them to an IRA?
• Can you qualify for US Medicare? Social Security?
• Is a Canadian Last Will and Testament valid in the US?
• What coverage does your provincial health plan give you in the US?
• Can you collect Canada Pension Plan and Old Age Security if you no longer live in Canada?
• What should you do with your home, rental property or business in Canada?
BRIAN D. WRUK, MBA, CFP(US), CFP(Canada), TEP, CIM, was born and raised in Edmonton, Alberta, but moved between Canada and the U.S. on several occasions. Now a dual Canada-U.S. citizen residing in Arizona, Brian and his firm specialize in helping Canadian residents living in or making the transition to the U.S.
"Every year, up to 30,000 Canadians realize their dream of moving to America. Financially, this is a dauntingly complex transition. This book eases the pain."
– Jonathan Chevreau, Editor-at-Large, MoneySense Magazine
"This is the best book I've seen on the myriad of financial and legal issues involved in moving to the U.S."
– Ian McGugan, Senior Editor – Report on Business, Globe and Mail
"The Canadian in America is an excellent one-stop resource for Canadians living in the U.S. I will certainly recommend it to our clients."
– Geoffrey D. Leibl, Immigration Attorney, Leibl & Kirkwood
ORDER MORE AND SAVE MORE!
Discounts are applied to your cart automatically.
| | |
| --- | --- |
| Quantity | Book Price |
| 1-3 | $24.95 |
| 4-9 | $20.00 |
| 10-19 | $17.50 |
| 20-29 | $16.25 |
| 30+ | $15.00 |
BUY BOTH BOOKS AND SAVE EVEN MORE!
Buy 1 of both books for just $40.00
Buy 2 of both books for just $75.00
Buy 3 of both books for just $105.00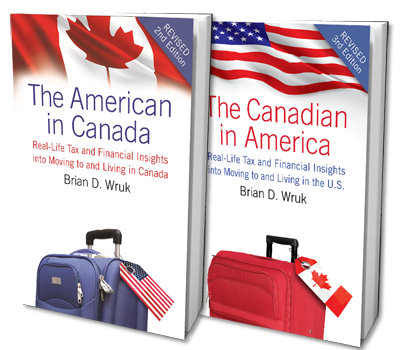 Please contact us for bulk order discounts